Apartment Maintenance Techs, Make Ready, HVAC Techs, Porters, Janitorial Staff Needed | CXC Talent Solutions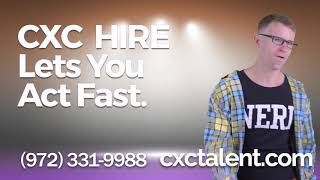 Job Seekers, Welcome to CXC Talent
Apartment Maintenance Techs, Make Ready, HVAC Techs, Porters, Janitorial Staff Needed
CXC Talent Solutions
CXC TALENT SOLUTIONS – Apartment Maintenance and Office positions AVAILABLE NOW!
Apply today through a DIGITAL interview!
CXC Interview Portal: https://hire.li/c19f602
We have opened our digital interview portal, so any candidate can log in and record an introductory interview. This will allow us to practice social distancing and to be able to forward interviews to clients once they are ready to resume hiring. Please use this link and you can record your interview on any video enabled device.
Call us ASAP!  972-331-9988
Founded by longtime multifamily industry insiders, CXC Talent Solutions has a simple mission:
Cultivate long term and mutually rewarding relationships with the industry's most TALENTED PROFESSIONALS that want to pursue career opportunities with the BEST COMPANIES in the Apartment Industry!
CXC Talent Solutions is currently seeking to hire IMMEDIATELY — Assistant Maintenance/HVAC Certified, Make Ready, Groundskeepers and Housekeepers in Dallas, Irving, Arlington, Grand Prairie,  Fort Worth, Texas.
The ideal candidate will have experience completing all different maintenance tasks according and pertaining but not limited to each position. You must be highly organized, able to work on a team, be resident focused, and retain excellent communication skills. Individual must have a passion for quality and service.
We are seeking to fill the following positions:
– Maintenance Assistant / HVAC Techs
– Make Ready/Maintenance Techs
– Groundskeepers/Porters
– Housekeepers/Janitorial
RESPONSIBILITIES:

Ensure that the apartment community, structures, and equipment are in compliance with local codes and regulations.
Assist in maintaining an inventory of adequate supplies and replacement parts and equipment by ensuring maintenance areas are neat and clean, and reporting shortages to supervisor.
Diagnose heat problems and repair/replace components.
Perform preventive maintenance.
Perform various other duties as assigned by the Apartment Community Manager or Maintenance Supervisor.
Skills Required:
Electrical
Plumbing
Carpentry
Ceramic Tile
Drywall/Paint
Appliance repair, installation and removal
Technical/ Educational Requirements:
High School Diploma or GED
Some College and/or Technical School is preferred
Physical Demands and Working Conditions:
Standing
Walking,
Use of hands and fingers to handle or feel
Reach with hands and arms
Climb or balance
Stoop, kneel, crouch, or crawl
Talk and hear
Ability to lift: Up to 50 pounds
On-Call on an as needed basis
Interaction with co-workers, residents and vendor
Other Requirements:
Valid Driver License
Reliable transportation
Hand/Power tools
Able to work indoors/outdoors on different climate conditions
Have proper clothing/accessories for different climate conditions and job duties
Able to work independently
Able to communicate effectively with staff and visitors to the facility
Bilingual a plus
Apply today thru DIGITAL interview!
CXC Talent Solutions
Criss Lopez
p: 972-331-9988
e: [email protected]

Additional Salary Information: Plus bonuses and benefits.
[embedded content]
Founded by longtime multifamily industry Professionals, CXC Talent Solutions has a simple mission: Cultivate long term and mutually rewarding relationships with the industry's most TALENTED PROFESSIONALS who want to pursue a career with the industry's BEST COMPANIES. CXC provides innovative solutions for the most talented multifamily professionals to match their in-demand skills & valued experience to the most attractive opportunities within the industry's TOP EMPLOYERS. Since we have long-term relationships with key decision makers with the leading companies, and they trust our services and ability to deliver, you will have access to opportunities no other staffing service can provide. CXC is now actively seeking TALENTED multifamily professionals of varying experience level for all apartment/property management on-site positions including Porter/Groundskeeper, Maintenance Technician, Leasing Consultant, Lead Maintenance, Assistant Property Manager, and Apartment/Property /Business Manager.
BACK TO TOP
Powered By
You do not have JavaScript Enabled on this browser. Please enable it in order to use the full functionality of our website.